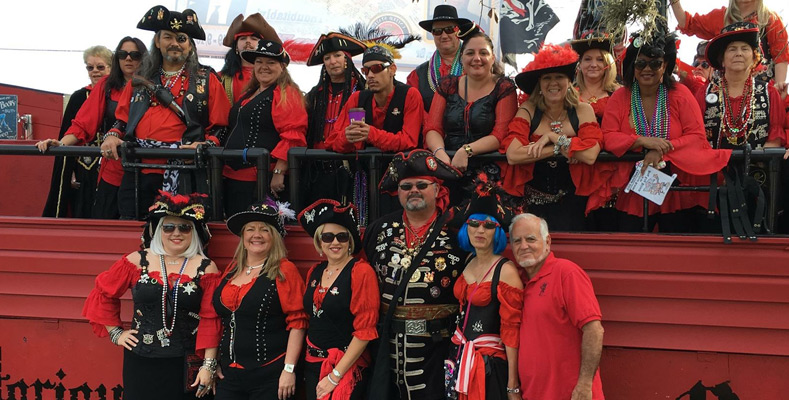 By Lisa Stark (courtesy of The Observer News/The SCC Observer)
Fun and foolery are part of the program for the Peg Leg Pirates. Ye Notorious Krewe of the Peg Leg Pirate celebrated their 12th year at the Gasparilla Parade last weekend in Tampa, sporting a newly renovated float complete with a second floor that accommodated a live band.
The Peg Leg Pirate Krewe is dedicated to assisting amputees and their families, and each year, the Krewe invites an amputee child to be their honored guest in the Gasparilla Parade, including this year's featured recipient, 6- year-old Julian Zentino from Land O'Lakes.
"Julian was beyond excited to be riding on the float this year," said his dad, Alain Juvert. "He loves the Pirate parade, and the Peg Leg Krewe has treated him like royalty."
Due to a congenital condition, Julian had to undergo amputations on both legs below the knee, but that didn't seem to slow him down much. "He's been learning to wrestle, and is signed up to play T-ball this spring," said his dad. "His core strength is amazing. He might be missing something, but everything else seems to be stronger."
Julian Zentino, front, with pal Claire Chaumont, is all smiles as he gets ready to ride on the Peg Leg Pirate float in the Gasparilla Parade.
Officers of the Krewe, from left, Liz Sutorus, Mike Sutorus, April Kennedy, Doug Moriarity, Fran Reiter and Fernando Llop.
Brian Sinnott, a prosthetist who has been part of the Krewe for three years, first met Julian while he was being fitted for prosthetics. "He's a pretty amazing kid," said Brian. "He has a ferocious spirit."
In the past decade, the Krewe has raised more than $250,000 to help amputees and their families. They have donated custom-made handcycles and tricycles to amputee children at Shriners Hospitals, providing ongoing physical therapy to these kids. They have also purchased handcycles for older children and adults, an excellent mobility device for amputees who havelost both legs. The handcycles are used extensively at competitive sporting events and racing competitions.
Utilizing their strong connection with Shriners Hospitals for Children in Tampa, the Krewe is able to identify amputees in need of mobility support and equipment. They work closely with Waldo Esparza, owner of Tampa Bay Prosthetics, who builds and fits amputees with prosthetic limbs, as well as Dino Scanio, clinic director and founder of the FOOT Foundation, which provides orthotic and prosthetic services to children not only in Tampa but in impoverished countries around the world.
More than $9,000 in academic scholarships were awarded by the Krewe for the 2015-2016 season, helping amputees further their education at an accredited university, community college or state-licensed vocational school. They also sponsor children to attend the Amputee Adventure Camp in the mountains of North Carolina, which helps children expand their imaginations and stretch their capabilities. Camp activities include river rafting, high ropes, waterskiing, swimming and horseback riding, to name a few.
Terry Huber and his wife Shirley, an amputee who lost her leg 31 years ago in a car accident, decided to form a charitable organization that focused on amputees. Ye Notorious Krewe of the Peg Leg Pirate was incorporated in 2004 as a 501(c)3 charitable organization. The original 14 founding members were primarily from the Apollo Beach and Ruskin area, but now members are from all over Tampa Bay and Orlando.
The Krewe's first float was a homemade project, donated by a construction company and built out by members.
Later the Pirates received a donation of a flat-bed trailer that forms the basis for the current float, which contains a refreshment bar, seating for 50, two bathrooms and an audio equipment station. Float chairman Fernando Llop led the remodeling of this year's float, which added a second level where a live band performed during the Gasparilla parade.
The  Krewe pirates enjoy meeting and interacting with the children and families they help, said Krewe President/Admiral Doug Moriarity.
"The feeling of actually making a difference in someone's life, to see a child with an amputation ride one of our cycles with so much joy on their face … that's what it's all about for us," said Moriarity.
Upcoming fundraisers for the Peg Leg Pirate Krewe include their 11th Annual "Get on the Good Foot" Sporting Clay Benefit Shoot on Saturday, Feb. 27, at Fishhawk Sporting Clays in Lithia, where they hope to raise $20,000 for the cause.
"It's a fun day, open to the public," said Moriarity. "And no prior shooting experience is necessary, because there will be people to assist beginning and novice shooters."
Addendum:
The Southeast Commandery of the Grand Priory of America, MHOSLJ, were proud sponsors of the Krewe this past year, contributing $1,500 to the Kause. Florida members of the Order, John and Anna Byrnes, along with member John Tempone and his wife Charla, participated in the Sporting Clay Benefit Shoot on February 27th. This dynamic sharpshooting team even won a prize – "The Most Fun Group", so you can imagine the score!
Most recently, John and Anna Byrnes were invited to join the Krewe of the Peg Leg Pirates, which they accepted and officially became "Pirates of the Krewe" in mid-February. Along with the fun and friendship of participating in the various parades of Gasparailla and other charitable events, membership entails a commitment to the cause of helping and supporting amputees in the greater Tampa bay area, a great cause for the Order to help support.
Share Article: